December 2


1996 - Infielders Pat Listach and Bill Spiers, along with pitcher Sid Fernandez, are signed as free agents. While Listach is slated to be the starting shortstop and Fernandez is expected to find a role in the starting rotation, it is the versatile Spiers who has the more lasting impact with the ballclub.
1993 - Astros deal righthanders Doug Jones and Jeff Juden to Philadelphia for lefthander Mitch Williams. The two closers both falter in their new roles while Juden fails to catch on despite pitching for eight different organizations.
1986 - Astros announce the firing of Gene Elston, play-by-play voice of the ballclub since 1962. Outcry from fans and the Houston media are swift but Elston moves on to do work for CBS Radio and write books. 20 years later, he receives the Ford C. Frick Award by the Baseball Hall of Fame.
1971 - First baseman John Mayberry is traded to the Kansas City Royals for reliever Jim York. Expected to be the new closer in the Houston bullpen, York earns a 9-11 mark with seven saves in four seasons with the Astros.
1968 - Darryl Kile is born in Garden Grove, CA. He compiles a 71-65 record over seven seasons in Houston (1991-1997) that reflect outstanding potential as well as frustrating inconsistency. He becomes a 20-game winner in St. Louis but dies on June 22, 2002 of a heart attack in his hotel room while the Cardinals are on a road trip in Chicago.
Rosters
Stats
Schedule
Official Websites
Daily Astros news
Baseball history
Astros-related charities
Historical fansites
Blogs and Fora
Merchandise
Baseball Simulations
AstrosDaily.com is tested on Internet Explorer and Mozilla Firefox. It is designed to look best at either 800 x 600 or 1024 x 768 resolution.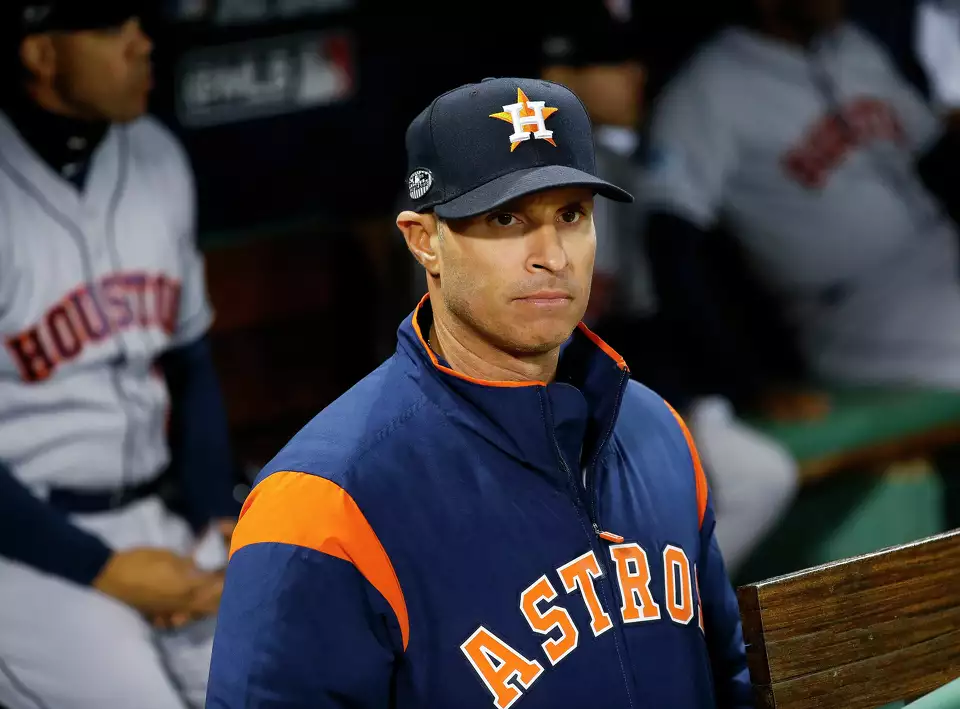 Espada: His turn, at last

(c) Karen Warren/Houston Chronicle

Joe Espada, the bench coach of the Astros for the past six seasons, has been hired as the club's new field manager Monday, replacing the retiring Dusty Baker. Espada, a native of Puerto Rico, has no previous big league managing experience although he stepped into the breach during Game 5 of this year's ALCS after Baker was ejected.

Espada, 48, was a middle infielder who reached the AAA level as a player but turned to coaching after ten seasons on the field. Known as an excellent communicator, he has the sort of mix between youth and experience that modern players can relate to him yet older men in management and the front office can respect him. Around the clubhouse, he's already a known commodity so there won't be a need for players to learn his style. He was very active in the day-to-day organizing of spring training camp.

No contract terms were announced. There will be time ahead for that. He will probably save the payroll some money compared to whatever the club paid for Baker annually. Notably, owner Jim Crane was not at the press conference, just General Manager Dana Brown who was said to be Espada's biggest supporter after the position became open.

With another piece in the puzzle completed, Brown can now turn his attention to the deadline for completing the 40-man roster before the Winter Meetings in December. The Astros have several older players in the minors who will get exposed to the Rule V draft and there are only three open slots on the 40-man to protect them with.

-Bob Hulsey

Houston Baseball: The Early Years 1861-1961
(click to order)
SEPT CALENDAR

Date      Opp      Result
9/01      NYY      L 6-2
9/02      NYY      L 5-4
9/03      NYY      L 6-1
9/04     @TEX*    W 13-6
9/05     @TEX     W 14-1
9/06     @TEX     W 12-3
9/07      off        --
9/08      SD      L 11-2
9/09      SD       W 7-5
9/10      SD*     W 12-2
9/11      OAK      L 4-0
9/12      OAK      L 6-2
9/13      OAK      W 6-2
9/14      off        --
9/15     @KC       L 4-2
9/16     @KC      L 10-8
9/17     @KC*      W 7-1
9/18      BAL      L 8-7
9/19      BAL      L 9-5
9/20      BAL*     W 2-1
9/21      off        --
9/22      KC       L 7-5
9/23      KC       L 3-2
9/24      KC*      L 6-5
9/25     @SEA      W 5-1
9/26     @SEA      L 6-2
9/27     @SEA      W 8-3
9/28      off        --
9/29     @ARI      W 2-1
9/30     @ARI      W 1-0
10/1     @ARI*     W 8-1
------------------------
**********ALDS**********
10/7     MIN       W 6-4
10/8     MIN       L 6-2
10/10   @MIN       W 9-1
10/11   @MIN       W 3-2
------------------------
**********ALCS**********
10/15    TEX       L 2-0
10/16    TEX       L 5-4
10/18   @TEX       W 8-5
10/19   @TEX      W 10-3
10/20   @TEX       W 5-4
10/22    TEX       L 9-2
10/23    TEX      L 11-4

* - day game.

April record:   15 - 13
May record:     17 - 10
June record:    13 - 14
July record:    15 - 10
August record:  17 - 10
Sep/Oct record: 13 - 14
LDS              3 -  1
LCS              3 -  4

Key Features
History & Stats
Misc
If you'd like to help AstrosDaily.com with writing, stats, web design or financial upkeep,

contact me

.

- Bob Hulsey