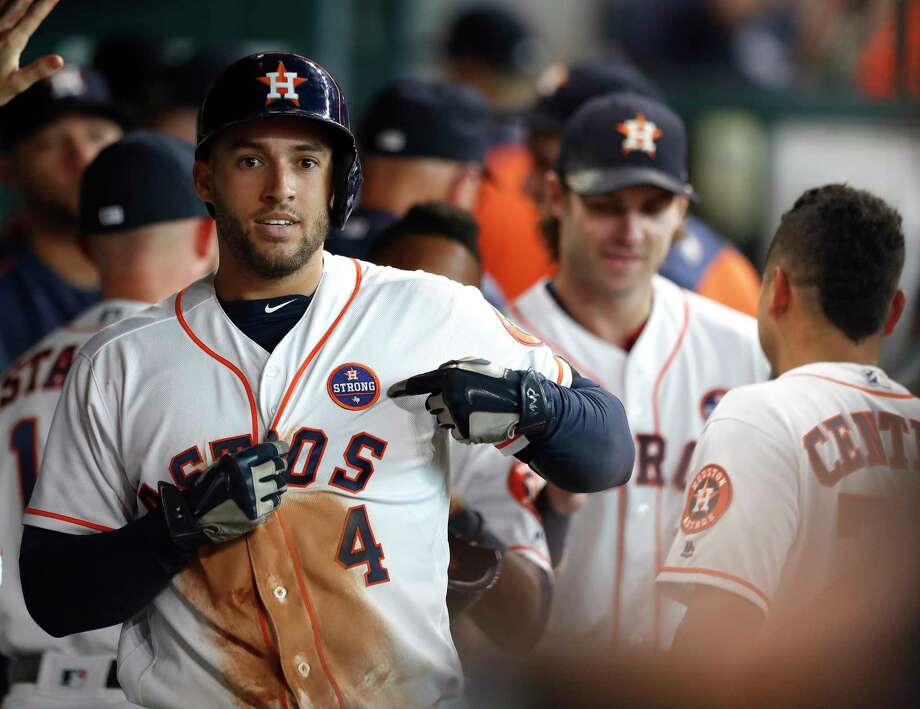 Springer: Shown the money.

(c) Karen Warren/Houston Chronicle

World Series MVP George Springer and the Houston Astros agreed on a two-year contract, avoiding arbitration. The club had wanted to pay the former first-round draft choice $8.5 million for one season while Springer, represented by agent Scott Boras, lobbied for $10.5 million. Together, they agreed to pay George $24 million over two seasons, according to multiple sources.

Springer led the Astros with 34 home runs last season and was second with 85 RBIs. He hit .283 with an .889 OPS at the plate and continues to be a highlight reel in the outfield with his leaping catches. Springer went deep in the last four games of the World Series to capture the Series MVP trophy and was the key offensive weapon in the Game 7 finale.

By paying him $24 million over two seasons, it would indicate the Astros feel Springer could have made at least $14 million in his final arbitration year and spares both sides the sparring that often takes place during arbitration contracts. Springer will have one remaining year of arbitration eligibility when his new deal expires.

The two sides have not always been this cooperative in contract negotiations. When Springer was destroying pitches in the 2014 spring camp, the Astros tried to get him to sign a long-term deal similar to the ones signed by Jose Altuve and Jon Singleton. The Astros were ready to ink him for seven years at $23 million. Despite pressure to be promoted to the big leagues, Springer nixed the offer and wasn't called up until injuries made it necessary for the Astros to do so.

Singleton, who was recently suspended for the third time due to violations with the minor league anti-drug policy, cashed in on his contract. Altuve, meanwhile, is grossly underpaid and may use that against the front office when his turn for free agency comes in 2019.

Springer has been somewhat injury-prone. His all-out style in the field is no doubt a contributing factor. He has missed significant time in three of his four big league campaigns.

Elsewhere, closer Ken Giles became the first of the arbitration cases to go to verdict with Giles winning his case. The righthanded reliever wanted $4.6 million while the Astros offered $4.2 million. That leaves pitcher Collin McHugh as the last remaining arbitration obstacle. McHugh is asking for $5 million while the Astros offered $4.55 million.

The Astros' payroll is closing in on on a price over $150 million to start the season. Last year's payroll started at $124 million and ended at $140 million according to Cot's Baseball Contracts.

Pitchers and catchers report to spring camp in West Palm Beach, FL, on Valentine's Day, February 14th.