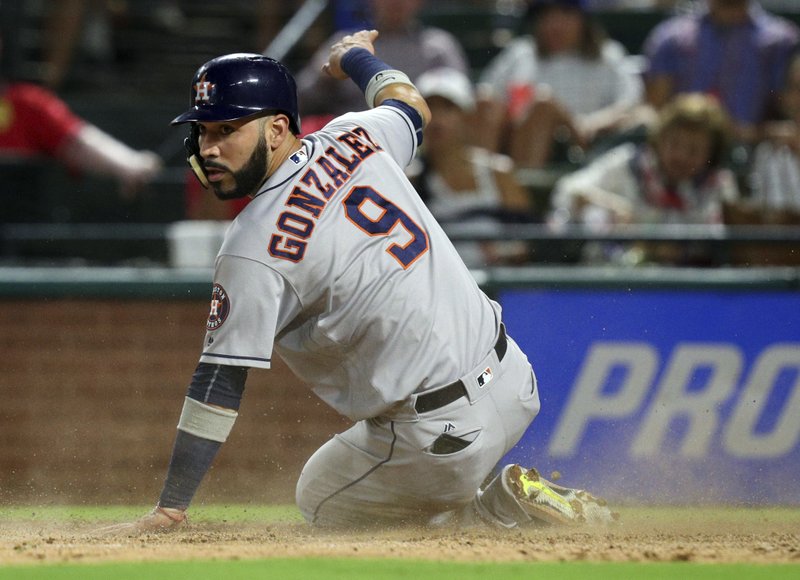 Gonzalez enjoyed a big night at the plate
(c) Associated Press
The Astros secured the Silver Boot and pushed the Rangers to the brink of elimination from playoff contention with a big 11-2 win at Globe Life Park Monday night. A strange 8-run top of the fourth inning propelled the Astros to win number 96 with six games left to play.
Joey Gallo got the scoring started in the bottom of the second, beating a defensive shift that saw the Astros put all four infielders on the right side of the diamond by blasting a 442-foot home run. Gallo's 39th round-tripper of the season, a solo blast off Collin McHugh, made it 1-0 Rangers.
The Rangers added another run in the third. Elvis Andrus singled to start the inning and advanced all the way to third when Evan Gattis threw wildly as Andrus stole second. Adrian Beltre's sacrifice fly brought Andrus home but the Astros dodged a bullet when the Rangers stranded the bases loaded, failing to capitalize on a couple of defensive miscues by Houston.
Rangers starter Andrew Cashner wouldn't be as fortunate in the fourth. Consecutive singles by Marwin Gonzalez and Evan Gattis and a sacrifice fly by Alex Bregman cut the lead to 2-1. After Carlos Beltran drew a walk, Tyler White lined to rightfield for out number two. Derek Fisher was hit by a pitch to load the bases and George Springer hit a seemingly routine bouncer to short that looked like it would end the inning. But Andrus was unable to make the play and Gattis came home with the tying run.
A bases loaded walk to Jose Altuve put the Astros in front and another error, this one by third-baseman Wil Middlebrooks, allowed another run to score. Gonzalez and Gattis delivered their second hits of the inning and, when the dust finally settled, the Astros had a 6-run lead at 8-2.
McHugh pitched out of more trouble in the fifth and left the game after throwing a season-high 112 pitches, striking out six while allowing two runs on seven hits in five innings of work.
Gonzalez added a solo homer in the sixth and would finish the game with four hits in five at-bats, driving in three runs and getting his season average back above the .300 mark.
The Astros added two more runs in the seventh and got four innings of scoreless relief from the bullpen to coast to the 11-2 drubbing. McHugh improved to 4-2 and continues to make a case for being included in A.J. Hinch's starting rotation once the playoffs begin.
Dallas Keuchel and Cole Hamels square off on Tuesday at 7:05 CDT as the series continues. Hamels is 7-0 at home this season and threw seven scoreless innings to beat the Astros on August 11.
- Greg Thurston