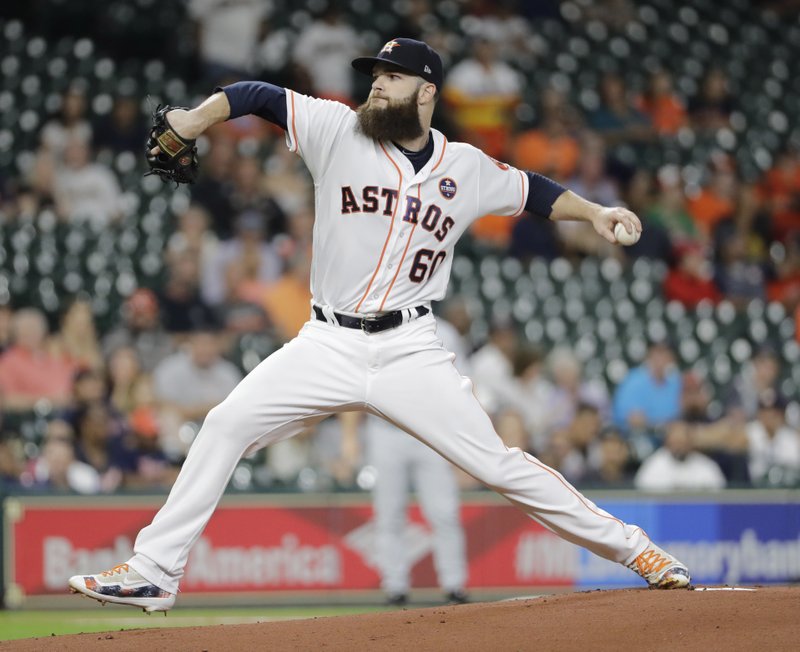 Loss drops Keuchel to 13-5
(c) Associated Press
The Astros turned in a lukewarm performance Thursday night in a 3-1 loss to the White Sox. A blister forced Chicago starter Carson Fulmer to leave the contest after facing only three batters and the A.L. West Champs were unable to mount any sort of a threat against a parade of relievers. Journeyman Chris Volstad picked up his first win since 2012 despite being the only one of seven Sox relievers to allow a hit.
Volstad replaced Fulmer with one out and two on and immediately got Carlos Correa to ground into a double-play to end the first. The 6-foot 8-inch right-hander would allow one run on three hits in 4-1/3 innings of work in his fourth appearance with the Sox since being called up from AAA earlier this month.
Brian McCann's third inning home run was the highlight of the evening for an Astros team that managed only three hits. Alex Bregman and Yuli Gurriel both singled in the second but Bregman was picked off of second base to end the inning.
Dallas Keuchel had what can only be described as a strange evening on the mound for the Astros. Chicago built a 2-0 lead early despite failing to hit a ball in the air their first two times through the lineup. The White Sox loaded the bases in the second with three ground-ball singles and Keuchel walked Rhymer Liriano to force in a run. Two more walks in the third helped Chicago add another run, scoring on a bases loaded double-play grounder.
Chicago's final run of the evening came in the eighth inning when Tim Anderson greeted Francis Martes with a 426-foot home run to centerfield.
Uninspiring names like Mike Pelfrey and Danny Farquhar were among the overachieving septet of ChiSox relievers that stymied the highest scoring offense in baseball. Former Astros farmhand Juan Minaya picked up his fifth save with a scoreless ninth and another Sox reliever was a genuine Bummer -- Aaron Bummer.
On the bright side, Keuchel notched seven strikeouts in six innings and both Will Harris and Tyler Clippard turned in solid appearances out of the bullpen.
The loss snapped a 6-game winning streak for the Astros and secured the season series for Chicago with four wins in six games. Justin Verlander will try to start another streak Friday night at 7:10 when the Angels arrive at Minute Maid Park for the first game of a 3-game series.
- Greg Thurston