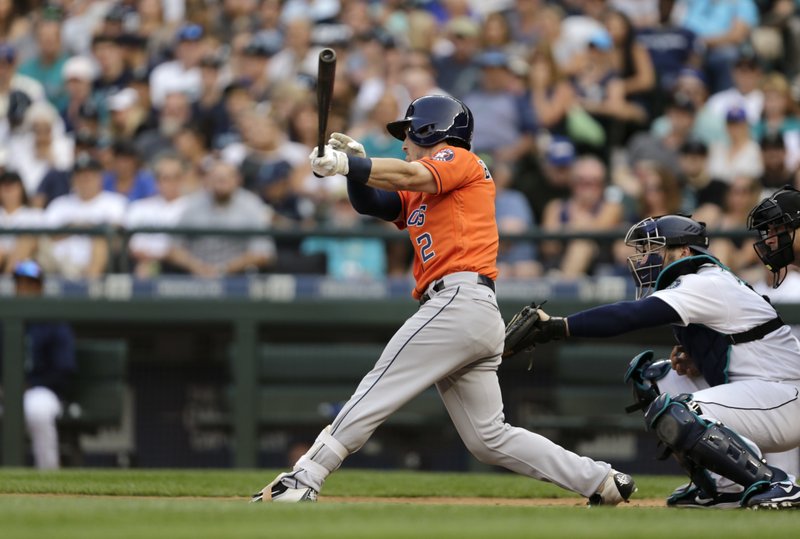 Bregman hits go-ahead double
(c) Associated Press
The Astros used a strong outing from Dallas Keuchel and a 4-run seventh inning to defeat the Mariners 6-2 on Labor Day at Safeco Field. Keuchel held Seattle to two runs over 7-2/3 innings to log his 12th win of the season.
The Mariners collected three of their seven hits in the first inning. A couple of seeing-eye grounders put two runners aboard and Kyle Seager delivered a line drive single to rightfield to give the M's an early 1-0 lead.
The Astros had trouble getting anything going against Seattle starter Erasmo Ramirez. But in the fifth inning Yuli Gurriel and Brian McCann did some yard work, connecting on solo home runs to give Houston a 2-1 lead.
Seager tied the game in the bottom of the sixth with a solo homer to center, his 20th of the season.
It didn't take long for the Astros to get the lead back. Mark Rzepczynski replaced Ramirez on the mound in the seventh and Marwin Gonzalez greeted him with a single to center. Rzepczynski walked McCann and was taken out of the game in favor of Nick Vincent.
Cameron Maybin executed a sacrifice bunt to move the runners up to second and third with one out prompting Seattle manager Scott Servais to issue an intentional walk to George Springer to load the bases.
Servais was apparently unaware that Alex Bregman has been one of the hottest hitters on the planet for the last two months. Alex, however, didn't forget. Bregman smacked a double to rightfield plating Marwin and McCann to put the Astros back on top 4-2.
After an intentional walk to Jose Altuve and a strikeout of Carlos Correa, Josh Reddick lined a single up the middle to score two more runs and knock Vincent out of the game. Dan Altavilla got the final out of the inning and stayed in to record a scoreless eighth after the Astros put the first two runners on base.
Keuchel walked Nelson Cruz with two outs in the eighth and with Seager due up and Keuchel at 108 pitches, A.J. Hinch turned to Francisco Liriano out of the bullpen. Liriano eventually got the job done. After uncorking a wild pitch, the lefty got Seager on a grounder to first to end the Mariners' threat.
Ken Giles struck out the side in the ninth and the Astros ran their winning streak to five in a crisp 2-hour and 53-minute handling of their division rivals.
Justin Verlander will make his Astros debut when the two teams meet again Tuesday night at 9:10 Central. Lefty Angel Miranda gets the start for Seattle.
- Greg Thurston